Features & Benefits
Bill Pay Exchange, also known as "BPX" payments has benefits for all parties involved in online bill payments.

Consumers who use our Real-Time Biller Pay platform will be protected by our use of Tokens and under existing federal consumer protection requirements, including as provided by the Electronic Funds Transfer Act and its Regulation E, applicable Unfair, and Deceptive and Abusive Acts and Practices statutes and regulations. In addition, Article 4A of the New York Uniform Commercial Code establishes a default, end-to-end framework of rights and responsibilities for banks and their commercial customers engaged in "fund transfers" (e.g., with respect to security procedures and liability for unauthorized transactions). This framework will apply to business-to-business payments conducted through the RTP system.

Benefits to your company include:
Money Transfer:

Payees can use their Credit or Debit cards or current bank account to pay their bill.

It's Fast:

24/7/365 access to funds anytime vs. several days for paper checks or ACH transfers to process.

It's Final:

Payee disbursed funds are Instant and Irrevocable.

Software Integration:

Integrate your Management or Enterprise software with us.

Message Detail:

Full 145 characters available using ISO 20022 XML format.

Online Real-Time Reporting:

Configured Dashboard with Virtual Terminal login.



Your Choice ~ Integrate your software system with us or, send us your API and we'll integrate Real-Time Payments with YOU!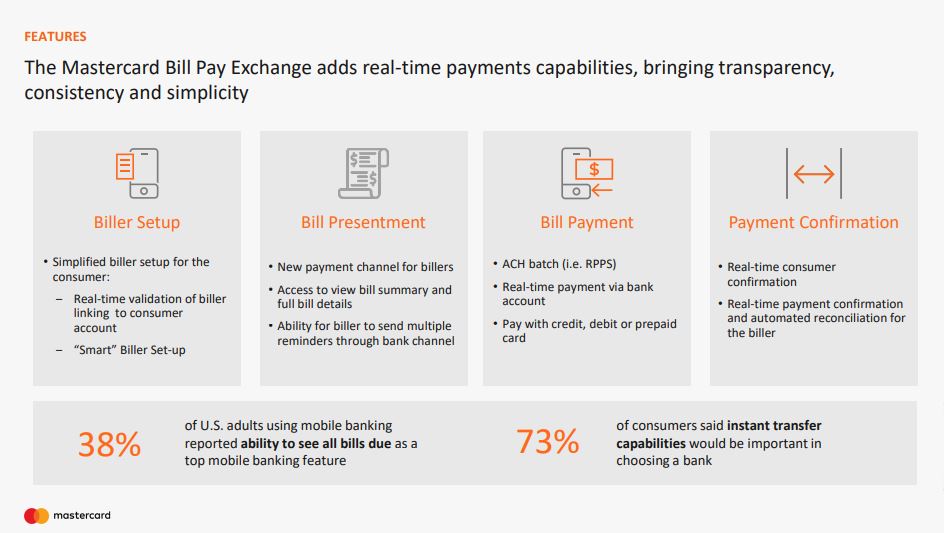 Why use Bill Pay Exchange payments?
Now Available to you:
Fastest Payments
Final Payments
Good Funds Payments
Immediate Payments
Instant Payments
Just-in-Time Payments
Last-Minute Payments
Last-Second Payments
On-Demand Payments
When mailed Checks, "Next-Day" or "Same-Day" payments are too slow - think Real-Time Bill Payments:
Bill Pay Exchange payments are SAFE:

bank-to-bank transactions, using bank login authorization, are the most secure method of funds transfer available.

Bill Pay Exchange payments are FAST:

24/7/365 payments and access to funds anytime.

Bill Pay Exchange payments are EFFICIENT:

The platform makes digital payments effortless and more efficient. We drive efficiencies and cost savings.

Bill Pay Exchange payments are EASY TO USE:

It connects users across the globe all through one digital hub.

Worried about Internet security? DON'T BE:

Fraud Protection: Identify, manage and prevent suspicious or potentially costly fraudulent transactions with our customizable, rules-based solutions.

After a transaction is processed, you'll even receive an e-mail with amount confirmation and receiver information. Plus, our payment platform gives you the ability to manually key-in transactions anywhere there's an Internet connection.

More than Same-Day ACH:


By the way, we own Same-DayACH.com, so we can offer you both solutions!

Real-Time payments doesn't share banking information between parties:

"...consumers and businesses indicated that they would rather share an e-mail address or a phone number to make/receive payments instead of sharing their bank account numbers." Page 29, Strategies Improving US Payment System

Credit Transfer:

Basic multi-purpose payment message, including remittance information.

Request for Payment:

RfP

®

to support P2P funds request and EBPP - Electronic Bill Presentment & Payment.

Payment Acknowledgement by Receiver:

Message from the receiver to the sender regarding payment dispositions (e.g. invoice paid, good shipped, etc.).

Request for Information & Response:

Receiver request for additional information about a payment (e.g. requesting customer account number, invoice number, or purpose of payment).

Remittance Advice:

Extensive remittance detail not included in the Credit Transfer message.

Sending money with Bill Pay Exchange payments is:

Instant - funds will be received in seconds.
Flexible - send or receive one-time and recurring payments.
Easy - it's all done online or via your mobile device, no need to visit the bank.
Quick - takes seconds to set use once your company is approved.
Secure - money goes directly into the recipient's account of choice.
Convenient - funds can be instantly accessed and spent.
Inexpensive - one of the cheapest on the market as there are no costs for the receiver.

---

Have Questions?

We have fast, friendly support!.

Our in-house experts are standing ready to help you make an informed decision to move your company's payment processing forward. Allow us to offer and create an electronic payment processing program to provide you access to your funds in an expeditious manner.
Start Enrollment Bill Pay Exchange
---
Real-Time payments Pricing

Remember, we offer several services and products that work with our Bill Pay Exchange payments Processing platform. Whether you handle dozens of transactions a day or hundreds, we have the right software & equipment for you!

We provide ACH and Credit Card Processing all integrated into our software!

Bill Pay Exchange payments Service Fees
"Real-Time" Transaction Fee -

starting at $1.50

Same-Day ACH Transaction Fee -

starting at 55¢

ACH Transaction Fee -

starting at 29¢

Monthly Account Fee -

$29

Company Application/Enrollment Fee -

$60, one-time

Receiver Enrollment Fee - Call for quote
QuickBooks Payment plug-in - Free, "Priceless"
Time to Funding - Real Time!

Bill Pay Exchange payments Advantages!
Eliminate Driving to the bank
Eliminate Printing, Mailing, Depositing Paper Checks
Eliminate Waiting
Eliminate Paperwork
Eliminate Paper Check HOLDS
Eliminate Copying Checks
Reduce Accounting Time and Expenses
Integrated with your Management Software

---